WE OFFER IN-HOME SCIENCE TUTORING
Give Your Student an Academic Advantage with ABC In-Home Science Tutoring
Is your child struggling with the subject of science, do they seem underprepared, and do they underperform come test time? Does it feel like your child may be falling behind his or her classmates, or unable to complete homework assignments in a timely manner?
At ABC Tutors we offer in-home tutoring programs for many different subjects, one subject that we commonly see students struggle with across all grade levels is science. Science can be a very difficult subject to master because it requires a student to be proficient in math, as well as having good comprehensive reading and writing skills.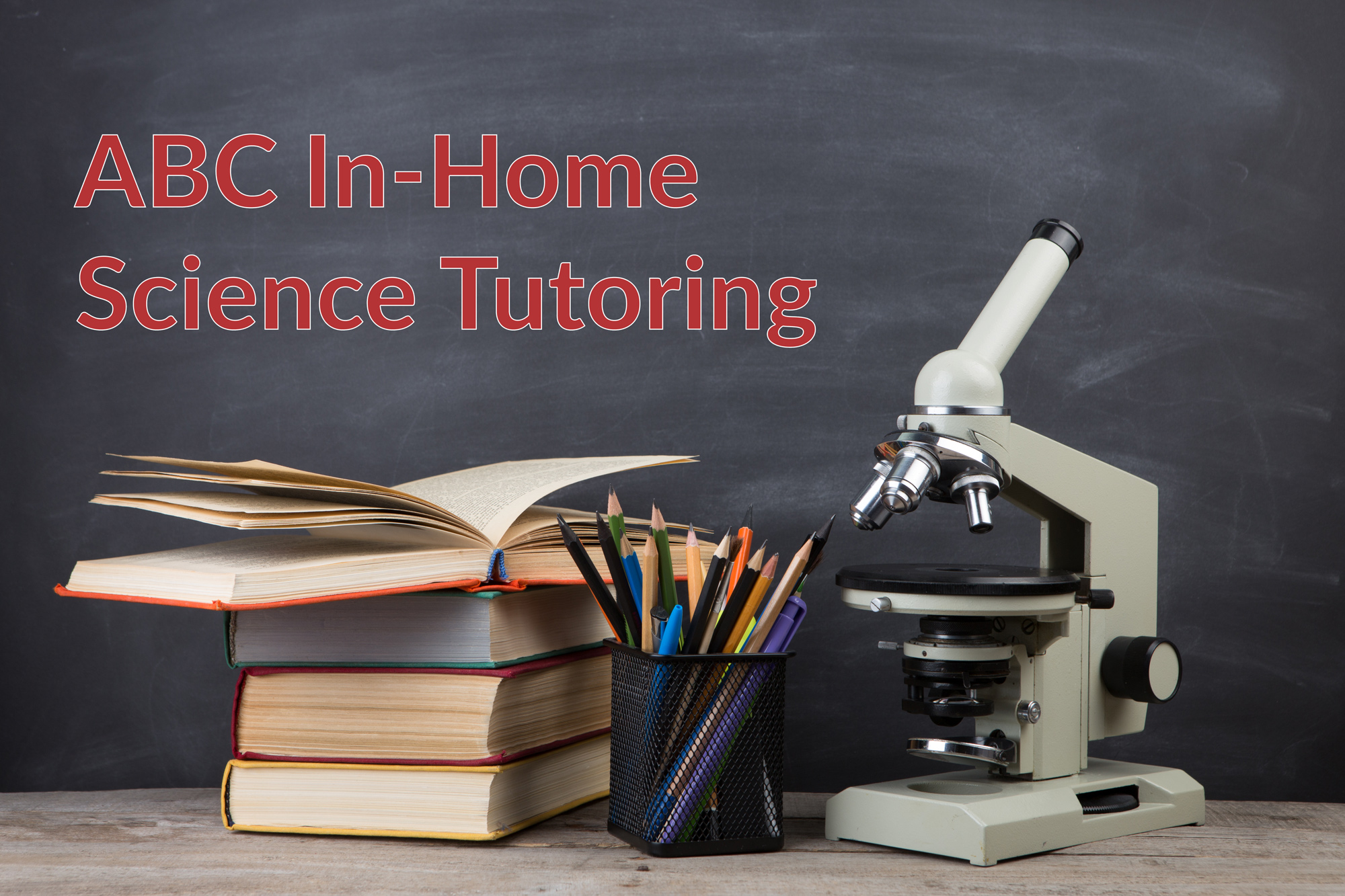 Science requires a student to apply solid research skills and an ability to observe, identify, describe, and perform experimental investigations as well as being able to articulate findings through the theoretical explanation of natural phenomena.
Throughout a student's education, just like mathematics and reading, the subject of science may change as a student advances in grade level. Generally, when science is taught to students K-12 it's typically broken into the three main disciplines biology, chemistry, and physics; however, it's not uncommon for high school students to be enrolled in other branches of science.
At ABC Tutors our expert in-home instructors are certified and experienced with the following science subjects:
Physics
Chemistry
Earth science
Space science
Biochemistry
Microbiology
Field Biology
Botany
Zoology
At ABC Tutors we can also help your high school student prepare for the science related portion of the SAT and ACT as well as any other subject they might be struggling with before test day.
ABC In-Home Science Tutoring Programs are Tailor-made for Each Student
Whether your child is struggling academically or not, ABC Tutors in-home science tutoring programs are a great way for a student to stay prepared, focused, and confident the entire school year. At ABC Tutors we Our in-home tutors understand the learning process and academic goals are different for every student, that's why our tutoring programs are designed to meet each individual student's specific needs.
Our team of in-home science tutors will help your student break down the detailed subject of science, making it less intimidating and easy to comprehend. ABC In-Home Science Tutors instill the skills necessary for students to become successful at science by boosting the confidence through repetition in an environment that is quiet and familiar…the students own home.
Enroll in an ABC Tutors In-Home Science Program Today!
We make the enrollment process straight forward and easy. We start by scheduling an interview with our ABC In-Home Tutoring Staff, parents, and the student. We first assess the needs of the student, identifying the specific areas that they are currently struggling in. Next, we work with parents and students to determine which ABC In-Home Science Tutor will be the best fit and how often and how long each in-home science tutoring session should be.
Once a student's tutoring program has been determined, weekly one-on-one science tutoring will begin! Every student's progress is documented, ensuring their targeted knowledge building goals are met.
If you think your child may be falling behind or struggling with his or her science skills, schedule a consultation with one of our education coordinators to start the ABC Tutors In-Home Science Tutoring enrollment and interview process.
We offer science tutoring year-round; spots fill up quickly so be sure to call or schedule online today!